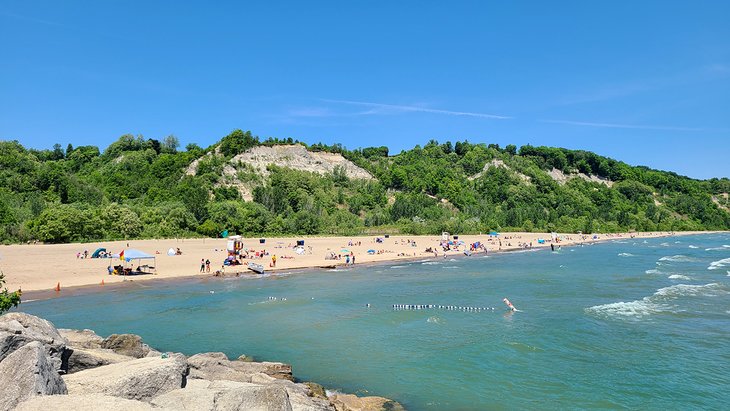 Bluffer's Beach in Bluffer's Park | Photo Copyright: Michael Law
Bluffer's Park is one of the best places to see Lake Ontario's famous Scarborough Bluffs. This large waterfront park is a delightful escape from the city. Home to another of the best beaches in Toronto, the park is aquatic-focused. A huge marina houses hundreds of sailboats bobbing gently in the breeze. Walking and biking trails wind their way along the lakeshore providing wonderful views out over the water.
The trail to the Scarborough Bluffs lookout is located in the southern end of the park; take the first exit at the bottom of the big hill and park in the main lot. If you are visiting the park to hit the beach, continue past this turn and follow the road until it dead ends at a parking lot. The beach is a short stroll from here.
Picnic tables and BBQs are spread out through the park. You'll also find a concession selling fast food and drinks, along with changerooms and washrooms.
Toronto's parks come in all shapes and sizes. Amazing waterfront parks complete with sandy shorelines and boardwalks jostle for top spot with parks that are historical in nature, while others come with special features like zoos and gardens. No matter where your interests lie, a Toronto park is out there just waiting for you.
Access to most of Toronto's best parks is easy. For several of them, all you need to do is hop on the subway – many of the parks have their very own stops. Alternatively, step onto a street car and stop anywhere along Queen Street East and in minutes, you'll be on one of Toronto's best beach parks.
A majority of the parks have comfort stations, playgrounds, walking trails, and concessions or food trucks nearby selling all kinds of snack food and ice cream. Find your patch of green with our list of the best parks in Toronto.