Toronto's parks come in all shapes and sizes. Amazing waterfront parks complete with sandy shorelines and boardwalks jostle for top spot with parks that are historical in nature, while others come with special features like zoos and gardens. No matter where your interests lie, a Toronto park is out there just waiting for you.
Access to most of Toronto's best parks is easy. For several of them, all you need to do is hop on the subway – many of the parks have their very own stops. Alternatively, step onto a street car and stop anywhere along Queen Street East and in minutes, you'll be on one of Toronto's best beach parks.
A majority of the parks have comfort stations, playgrounds, walking trails, and concessions or food trucks nearby selling all kinds of snack food and ice cream. Find your patch of green with our list of the best parks in Toronto.
Note: Some businesses may be temporarily closed due to recent global health and safety issues.1. High Park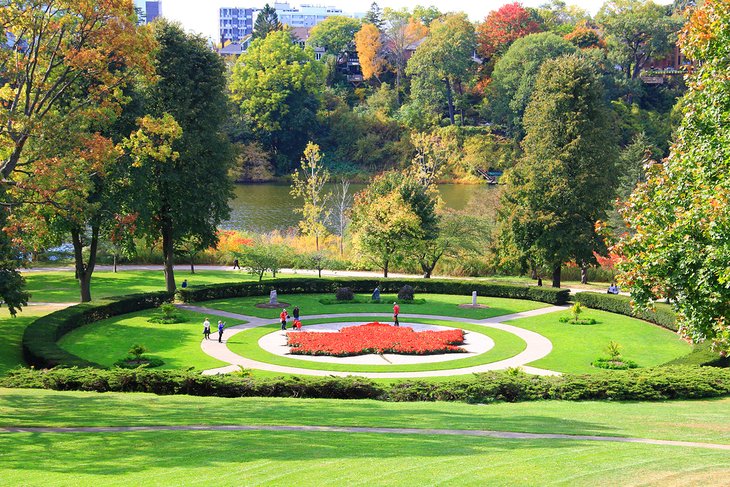 High Park
Toronto's High Park is one of the largest and most popular in the city and for good reason. Stretching from Bloor Street down to The Queensway, this huge park is someplace you can explore for days and still not see everything. In fact, one third of the park remains in a natural state.
High Park is full of wonderful walking trails that follow the contours of the land as they wind their way through large trees and along burbling brooks. Two of the best are the Spring Creek and West Ravine. Or, for something more sedate, follow the trails that lead down to Grenadier Pond, one of the best places to fish in the city.
Sports enthusiasts love High Park for its extensive tennis courts, soccer fields, and baseball diamonds. In the winter, an artificial ice-skating rink operates. The outdoor swimming pool is huge and very popular on hot summer days, listen for children's shrieks of delight, and you'll know you've found the splash pad.
Another popular destination in the park for families is the High Park Zoo. This small zoo has a variety of animals, some of the more popular include sheep, bison, capybara, yaks, reindeer, and colorful peacocks.
A great way to get around the park is to take the High Park Trackless Train. The route takes 30 minutes to complete; you can exit and re-board the train once. If you find yourself in the park in the spring, be sure to check out the incredible display of blooming cherry trees.